In this series of posts, I will explain how to build a Windows Server 2008 cluster with Server Core and Hyper-V. There will be three posts as linked to below. Each post will be published as it get ready. Each post will have step-by-step snapshots. If it happens a certain image thumbnail is not good enough for you, then click on the snapshot to see a larger image.
1st Part: Hyper-V & Server Cluster – Server preparation

2nd Part: Hyper-V & Server Cluster – ISCSI Storage preparation & Configuration
3rd Part: Hyper-V & Server Cluster – Creating Windows Server Core 2008 & Hyper-V Cluster (You are here)
3rd Part: Creating Windows Server Core 2008 & Hyper-V Cluster:
We now have almost everything ready.
Go to a server that has GUI (e.g. the DC) and run the Failover Cluster tool (you can choose to install the RSATs or to add the Failover cluster feature to get the tool).
Go to Validate a Configuration.
Then add the nodes (don't ask me why one is called ar-naplab-hv01 and the other ar-techlab-hv02 because I don't know)
Run all the tests and cross your fingers ….
Next ..
It starts.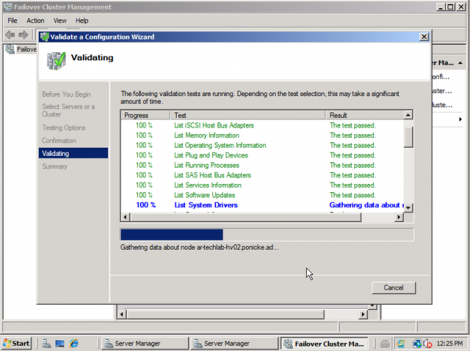 It is important to check that the disks were mounted on both nodes while the validation process is running.
Look at the report and make sure that everything is green.
If yellow (warning) or red (failed) appears in the report, see where the error occurred and how it can be fixed.
Back in the Failover Cluster tool, click on Create a cluster and Next .
Add the nodes.
It is now time for the configurations of the cluster name and IPs. I'm going to call mine hvcs (very creative: HyperV Cluster Service), remember that the name does not have the domain, that's why I only put hvcs and not hvcs.ponicke.ad.
Un-select all networks except those where the cluster will respond to requests and enter the IP address of the cluster, in my case 192.168.1.200
Review everything.
Cross your fingers again…
Ready !!!!!!
Now there's a nice cluster!
Download the Hyper-V administration tool (64 bits) from:
http://www.microsoft.com/downloads/details.aspx?FamilyId=88208468-0AD6-47DE-8580-085CBA42C0C2&displaylang=en
Connect to the servers with Hyper-V.
And it's ready to virtualize!
You can also learn about VM deployment on the following link:
http://blogs.technet.com/ponicke/archive/2008/03/19/quick-migration-unleashed.aspx
Thank you ponicke for this last article of the series.