In the past few weeks, I was lucky enough to get the chance to look over many third party monitoring solutions for VMware vSphere. I have decided its worth covering few of them on my blog. I will start today with Veeam nworks  MP Microsoft Ops Mgr.
Earlier last year, I had a look at Veeam monitor which I thought of being a very basic performance monitoring tool though I expected that from its price tag (I have not yet tried Veeam Montir 4 & that is on my to do list). Though  Veeam nworks  MP Microsoft Ops Mgr has changed my view of Veeam when it comes to monitoring. Its a 360 degree full VMware monitoring solution & I would definitely rate it as an enterprise ready. I believe Veeam should revamp their Veeam monitor to match Veeam nworks  MP Microsoft Ops Mgr.
Actually Veeam nworks  MP Microsoft Ops Mgr was able to change my view of Microsoft System Center Operations Manager. I have never thought Microsoft System Center Operations Manager will be one of the good candidates to monitor VMware Infrastructure, but Veeam nworks  MP Microsoft Ops Mgr has proven me wrong. I was amazed by the granularity of the product. I mean it has got a monitoring parameter for every item I have though of.
Veeam nworks Management Pack for VMware has a great customizable dashboard, which makes it great for customers with a Network Operation Center that are filled with large LCDs. It help the NOC operators to easily identify any problem arising with the VMware infrastructure & escalated to the concerned administrator in a timely fashion. Monitoring dashboard was totally missing, when I tried Veeam monitor & I think Veeam should look at that for their next Veeam monitor release if they are reading my post. One of the Veeam nworks dashboard screens is showing below.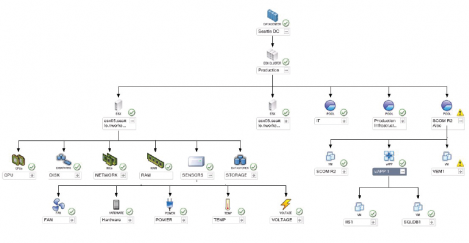 So for customers with SCOM in their environment & want a comprehensive solution for monitoring their full environment from one pane of glass Veeam nworks Management Pack for VMware is just that. It has the ability to publish VMware configuration, performance, state, capacity, topology, and VMware vCenter events directly into Microsoft System Center Operations Manager, giving you a common view across your physical and virtual infrastructures. One feature I have loved about nworks Management Pack for VMware was the ability to integrate Microsoft Application Monitoring Agents into the same view of Veeam nworks  MP Microsoft Ops Mgr. For example, you will have an alert of MS SQL 2005 performance alerts integrated with your virtual machines alerts.
The scalability of Veeam nworks is great. This is quite important if you have a large datacenter. Your monitoring product must be able to scale to monitor all your servers without compromising on the amount of details it monitor & report. The way Veeam nworks scale is by allowing you to deploy multiple collectors & manage them from the same Management Center, which keep your alerting system consolidated. One more factor that make it scalable in my opinion at least, that it is agentless & totally depend on VI-API. That means using it will not cause you any compatiblity problems, or upgrade issue in the future.
Its worth mentioning, if you have MS SCOM then Veeam nworks Management Packs for VMware will be the de-facto solution for your organization. Though if you don't have MS SCOM, then you don't really need to implement it just to get a close monitoring of your virtual environment. There are many other Virtualization Monitoring solutions from other vendors that offer a great visibility of your virtual infrastructure & does not require the present of SCOM, as its not always cheap to implement SCOM in your environment.
Last but not least, I would like to thank Arseny Chernov & Tatiana Mishina from Veeam for providing me with trial licenses for Veeam nworks & all the support to try it out. Ah one more last last thing & below is a quick video of the product: