vRealize Automation 6.2, which is the new name for vCloud Automation Center has been made available for download earlier today. This release will be adding a lot of new enhancement & features where you can find the full list in the vRealize Automation 6.2 Release notes. In here I want to cover few main enhancements, that I was patiently waiting for.
1- Ability to edit custom properties for published applications in the service catalog. While this enhancement is sneaked in very late down in the release note & many have not given it as much attention, it is one of the greatest enhancement in my opinion in this release. If you have worked with vCAC in the past and tried to integrate it with VMware Application Director (just renamed to vRealize Automation Application Services), you were always faced with the challenge that if you publish applications using application director into vCAC, you will not be able to pass custom properties to the underlying VMs blueprint, which was a big challenge. Actually in many cases, it eliminated the ability to use application director without a very heavy customization. Now this constrain being lifted, I can see the amount of great power vRealize Automation will enjoy when coupled with vRealize Automation Application Services. It is time to step up the game, and go way beyond deploying VMs and its required infrastructure to hit as high as installing the required applications, its pre-requisites, and even any required load balancing(even on external load balancer such F5)
2- Integration with vRealize Operations Manager
Provides reclamation recommendation based on data from vRealize Operations Manager.
Displays Health Badge from vRealize Operations Manager.
It is a shame that the release notes only had the above two lines on the better integration with vRealize Operations Manager, as this release is the vROps of vRealize Automation. Tons of enhancements has been done on that front, that will give many of us in the field a nice grin.
– Now you will be able to check your VMs health directly from vRealize Automation as shown in the below screenshot
Further, you now can identify idle VMs, Undersized VMs, & oversized VMs directly from vRealize automation as shown in the below screenshot: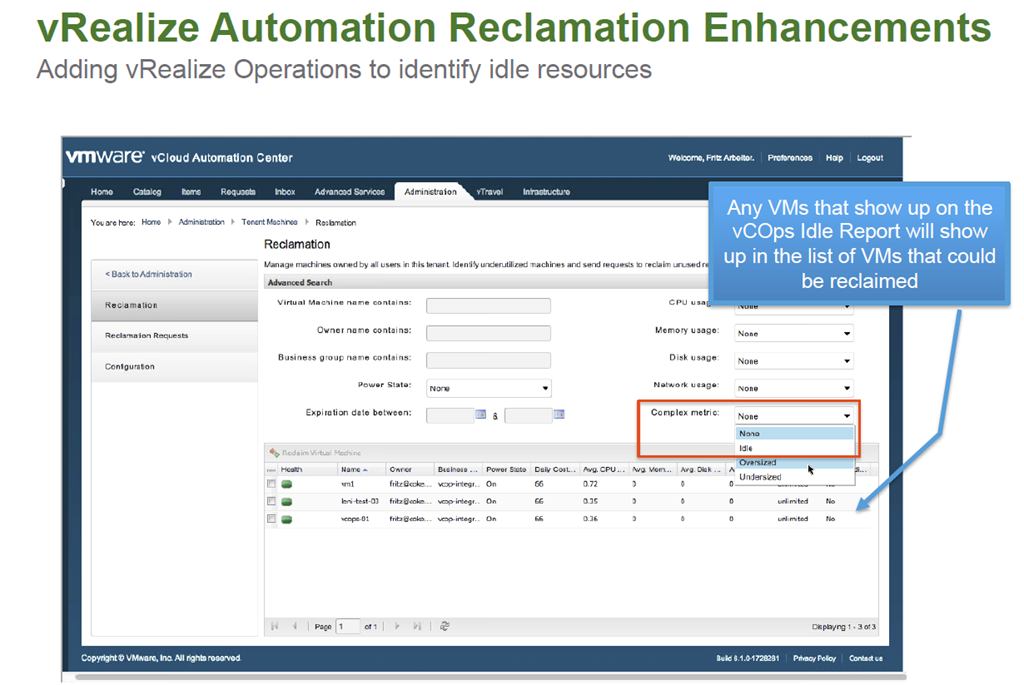 For more information on vRealize Automation & vRealize Automation integration features, you can check the following post by Chris Wahl:  http://wahlnetwork.com/2014/10/14/vrealize-integration/
3-  Enhanced Endpoint Support, where the following end points support was added.
vSphere 6 (Q1-15) <== Yes, this will get you ready for the long waited vSphere 6 to be released early next year.
XenDesktop 7
Enhancements to vCloud Air <== one of the top enhancements here is vRealize Automation can now connect to vCloud Air including subscription and on-demand service or vCloud Director through proxy, which is configured in vCloud Endpoint. This is great for those customers whose VMs do not have a direct internet access and connecting to vCloud Air was a challenge for them in the past. Fear no more, problem solved!
4- Advanced Service Designer Enhancements
Support for importing and exporting Advanced Service Designer content. Many customers wanted this to be able to backup their Advanced Services Designer configuration, and its great to be finally available as an out of the box feature.
Support for complex and interactive forms for resource actions.
Populates form controls with data from external systems.
5- Enhanced Logging, improved logging and event tracking for auditing as well included centralized log collection of all cluster logs, including IaaS.
6- Certificates enhancements, Added certificate validation and simplification in vRealize Automation Management console. This should help you get your certificates right the first time. If you are still having issues generating the right type of certs, then you might want to look at my previous post: vCloud Automation Center 6 Certificates A to Z
7- API Improvement and new CLI Tool
Support for managing reservations has been added to the vRealize Automation REST API. The new API capabilities include creating, updating, or deleting a reservation, and viewing information about a reservation such as its compute resource usage. The supported reservation types are supported: vSphere, vCloud Director, Amazon, KVM (RHEV), SCVMM, Hyper-V, and XenServer. Enabling FlexClone in vSphere reservations is not supported from the API in this release.
Updated the vRealize Automation Programming Guide with a greater focus on performing common tasks and scenarios by using the vRealize Automation REST API and with overview information about the API services and working with the API reference documentation.
It seems this new release of vCloud Automation Center (now named vRealize Automation) has something for everyone.  Enjoy the ride!
Automation Application Service
Automation Application Services