Did you ever want to manage or monitor your vSphere infrastructure from your mobile device? You are in luck, VMware has a mobile application available for Android and iOS which helps you to manage virtual machines and hosts on your vSphere infrastructure . While this application is optimized for smartphones, it will work on tablets too.
VMware vSphere Mobile Watchlist brings the following key capabilities to vSphere administrators on the go:
Easily create VM or Host watchlists: Search for and select a subset of VMs and hosts from your VMware vCenter or standalone ESXi server to monitor in one or more watchlists.
Awareness: Review the status of selected vSphere Mobile Watchlist VMs and hosts from your device:
• View VM or Host state
• View health alerts, resource usage, and related objects
• View configuration details
• View tasks and events for a VM or host
VMs and Hosts at a glance: Review the status of selected Watchlist VMs and hosts from your device including state, configuration details, resource usage, health alerts, view of the VM console, and related objects.
Understanding: When an alert occurs on a VM or host, vSphere Mobile Watchlist allows you to view a number of different information sources to determine the root cause:
• View KB articles that are automatically retrieved based on a
given alert
• Continue the search for web articles related to the alert
• View performance charts of CPU, memory, disk, and network usage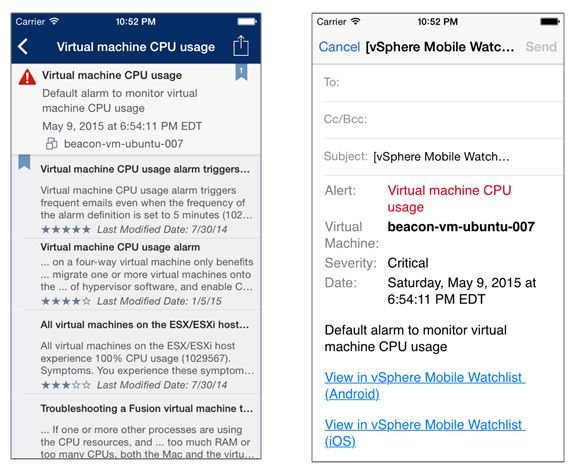 Remediate Remotely: Remediate problems directly from the phone:
• Initiate VM power operations: powering on or off, resuming/suspending, connecting/disconnecting, or restarting VMs and or hosts
• Initiate basic host operations, set maintenance mode, or connect and reconnect hosts
• Configure the VM's CPU and memory
• Manage snapshots: taking a new snapshot, deleting an old snapshot, or reverting to a previous snapshot
• Interact with the VM console
Delegate to your team: For those situations where you are not able to fix an issue from the device, VMware vSphere Mobile Watchlist will enable you to share the VM and alert information along with any suggested KB articles and other web pages relevant to the current problem. Your colleagues back in the datacenter can use this context to resolve the issue.
Below is a video that demonstrates the VMware vSphere Mobile Watchlist interface & features:
Compatibility:
vSphere Mobile Watchlist is compatible with Android 4+ and iOS 7.0 or later. It is optimized for the phone form factor but will work on a tablet as well.
 A VMware vSphere installation (5.0 and above) is required to use VMware vSphere Mobile Watchlist. Access to vSphere infrastructure may require a secure access method such as VPN on a mobile device. Contact your IT department for further assistance.
Support and tips for using VMware vSphere Mobile Watchlist are provided via VMware Communities at http://www.vmware.com/go/vspheremobile
Please note that support for vSphere Mobile Watchlist is not available through VMware's telephone support hotline or Global Support Services.
What are you waiting for, head to your Android Market or Apple App Store and get your copy now and start testing. Please provide feedback of issues and features requests below in the comments area. Looking forward for your feedback!