VMware Cloud Director, the leading cloud management platform, has released its highly anticipated version 10.5, packed with a wide array of exciting and powerful features that can significantly enhance the cloud experience for both cloud providers and tenants. Let's delve into the details of these new capabilities and understand how they can revolutionize the cloud landscape.
VMware Cloud Director 10.5 Networking New Features:
VCD NSX Federation with VDC Groups:
In a significant advancement, VMware Cloud Director now supports NSX Federation, allowing cloud providers to register an NSX Global Manager instance that orchestrates security policies across regional local NSX Manager instances within the VMware Cloud Director environment. With NSX Federation, providers can include up to 4 NSX Manager instances in a single VDC Group. This breakthrough empowers providers to establish networking availability zones by disaggregating NSX Manager instances across regional data centers, resulting in enhanced networking resilience and availability. By leveraging NSX Federation, cloud providers can design robust and highly scalable network architectures, ensuring seamless connectivity for their tenants. In this release, not all features are supported by NSX Federation under VCD, but more to come with future releases. For more details you can check: Managing NSX Federation
VMware Cloud Director NSX Advanced Load Balancer HTTP Policies:
VMware Cloud Director 10.5 introduces a tenant self-service user interface for configuring NSX Advanced Load Balancer HTTP policies, providing tenants with unprecedented control over their application delivery and security. Tenants can easily manage HTTP request, response, and security policies for virtual services. The inclusion of HTTP request policies enables modifications to requests before they are forwarded to the application or used as a basis for content switching. Likewise, HTTP response policies allow evaluation and modification of responses and response attributes from virtual applications. The newly introduced HTTP security policies offer configuration options for allowing or denying specific requests, closing TCP connections, redirecting requests to HTTPS, applying rate limits, and providing static page responses during outages. These powerful capabilities empower tenants to optimize their application performance and security within the VMware Cloud Director environment.
VMware VCD IP Spaces Migration UI Wizard:
The introduction of the IP Spaces Migration UI wizard in VMware Cloud Director 10.5 simplifies the migration of provider gateways from legacy IP blocks to the more flexible and scalable IP spaces. This wizard-based approach offers a user-friendly interface for providers to seamlessly transition their environments, reducing complexity and improving network management. With the migration to IP spaces, providers can achieve enhanced network segmentation, efficient resource allocation, and streamlined network configuration. For more info, you can check: Migrate a VMware Cloud Director Provider Gateway to Using IP Spaces.
BGP Enhancements in VMware Cloud Director:
The new BGP route maps tab in VMware Cloud Director 10.5 provides customers with greater flexibility and control over route redistribution. This enhancement enables customers to specify additional configurations for route redistribution, optimizing routing policies and improving network performance. Notably, route maps are available exclusively to provider gateways that utilize IP spaces, allowing providers to fine-tune their routing strategies and achieve optimal network efficiency within the VMware Cloud Director environment.
VMware Cloud Director Improved Firewall Rules UI:
VMware Cloud Director 10.5 introduces an enhanced user experience for managing firewall rule expressions. With the improved UI, providers can effortlessly create and manage firewall rules, thereby streamlining the configuration and maintenance process. The new interface enables providers to create a single firewall rule, position it at a specific position in the rule list, and even reorder individual firewall rules without the need to edit the entire list. Furthermore, the ability to directly add IP ranges and individual IP addresses into the firewall rule source and destination text boxes simplifies rule configuration and promotes efficiency. The addition of a loggingId element corresponding to the NSX rule_id enhances firewall rule tracking and management.
Generation of Autoconfigured Default NAT and Firewall Rules:
In conjunction with the use of IP spaces, VMware Cloud Director 10.5 introduces the automatic generation and application of default SNAT, NO SNAT, and firewall rules for edge gateways and provider gateways. Leveraging the topology of relevant IP spaces and their external and internal scopes, VMware Cloud Director autoconfigures NAT and firewall rules, significantly reducing manual configuration efforts for providers. This feature ensures secure and efficient network connectivity while eliminating the need for providers to manually define default rules.
Cloud Director 10.5 Core Platform What's New?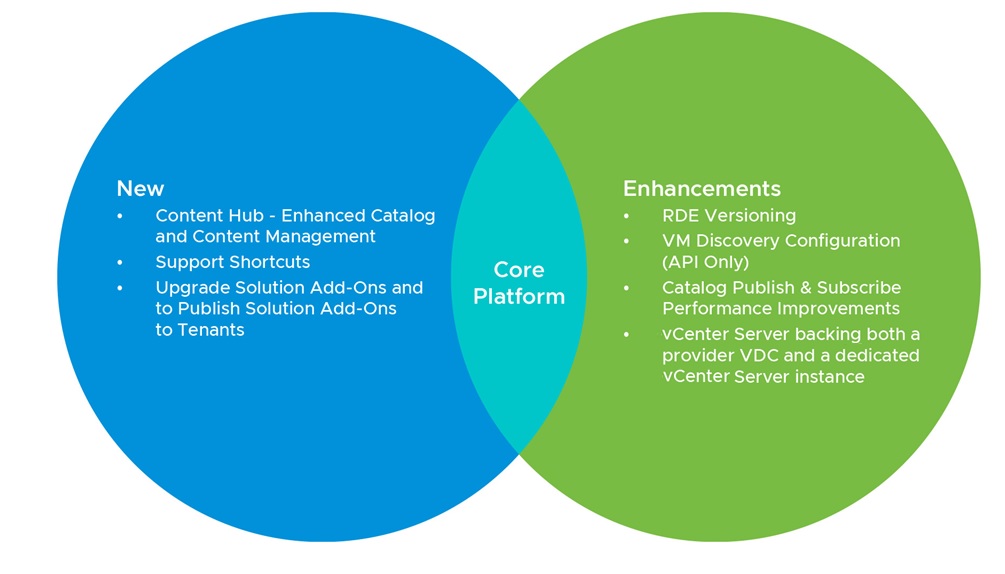 Cloud Director Content Hub – Enhanced Catalog and Content Management:
With version 10.5, VMware Cloud Director introduces Content Hub, a groundbreaking feature that provides cloud providers and tenants with a completely revamped user experience for accessing and managing application images. Through Content Hub, providers can create catalogs backed by local VMware Cloud Director storage, enabling seamless sharing with tenants. Additionally, application images can be imported from VMware Marketplace and third-party Helm chart repositories, offering a diverse range of options for catalog creation. The merger of the existing VMware Cloud Director Catalog and App Launchpad into Content Hub ensures a unified and streamlined experience for tenants and providers. This enhancement facilitates efficient provisioning of application images such as vApp Templates, ISO files, and container application images in the form of Helm charts. You still can utilize App Launchpad if you desire with VMware Cloud Director 10.5, but the plans are to get Content Hub to be the native alternative for App Launchpad. The beauty of it is that you won't need to install any extension to enable it as it's an out of the box feature in VCD 10.5 and higher.
Catalog Publish – Subscribe Performance Improvements: We have significantly reduced the time it takes to sync content during in catalog publish-subscribe across Cloud Director instances. The publish – subscribe sync is also more resilient with respect to data transfer disruptions. In our testing catalog sync of a vApp template of size 10 GB that would take over 1 hour to sync in previous releases would now complete in under 15 minutes. This was achieved by breaking up data into chunks and introducing concurrency in data transfer.
VM discovery enablement at the organization and organization VDC levels: In previous releases, you can configure VM discovery in VMware Cloud Director at the global level, organization level, and organization VDC level but the global level had precedence over the organization level and the organization level had precedence over the organization VDC level. In versions 10.4.x and earlier, if VM discovery is deactivated at the global level, you cannot activate it at the organization or organization VDC level. Starting with VMware Cloud Director 10.5, you can override the global level VM discovery setting at the organization and organization VDC levels. If you use the /api/admin/extension/settings/general API to set the AllowOverrideOfVmDiscoveryByOrgAndOVDC parameter to true, the organization and organization VDC VM discovery behavior can override the setting at the global level. See Discovering and Adopting vApps.
vCenter Server can back both a provider VDC and a dedicated vCenter Server instance: Starting with VMware Cloud Director 10.5, a provider administrator can activate two advanced settings so that a vCenter Server instance can back both a provider VDC and a dedicated vCenter Server instance. This is an advanced configuration that exposes risks and must only be activated by experienced VMware Cloud Director administrators. For information, see Managing Dedicated vCenter Server Instances in VMware Cloud Director
Cloud Director 10.5 Storage and Solutions enhancements
Ability to Upgrade Solution Add-Ons and to Publish Solution Add-Ons to Tenants: VMware Cloud Director 10.5 introduces the ability to upgrade your solution add-on instances when a new version becomes available. You can also publish solution add-ons to some or to all of your tenants. See Using Solution Add-Ons with VMware Cloud Director.
Leverage Shared Datastores Across Multiple vCenter Servers: In earlier releases, when moving VMs across different vCenter Servers, the placement engine did not consider the shared datastores between the vCenter Servers. This resulted in a copy operation involving export and import of the OVF. Starting with VMware Cloud Director 10.5, the placement engine provides shared datastore recommendations to prevent the OVF export and import workflow, and optimizes the move operation by making it faster.
Tenant Migration enhancements: In earlier VMware Cloud Director releases, Migrate Tenant Storage would select all the VMs which have at least one disk on the selected source datastores and move the entire VMs and its disks regardless of whether the disks were on the selected source datastores. Starting with VMware Cloud Director 10.5, this behavior is controlled by the Migrate Entire Virtual Machine property.Setting this property to false results in only moving the disks that are on the source datastores.
By delivering these cutting-edge features, VMware Cloud Director 10.5 empowers cloud providers to deliver enhanced services, streamline operations, and provide a more flexible and secure cloud environment for their customers. The new release sets the stage for an exciting future in cloud computing, propelling the industry forward with its comprehensive suite of advanced capabilities.
What are you waiting for! Time to take some of those exciting features for a ride!