Veeam Backup & replication is one of my personal favorite DR solution for VMware, specially when SAN replication is not an option. Though just as with any other backup or Disaster Recovery solution you will have to test your backup or disaster recovery plan regularly. As Veeam Backup & Replication does not include a button for testing the DR, many people don't test their DR or get to restart the full replication over & over again after every DR test. For that I have decided to document my Veeam Replica test procedure & share it with you to save you the time & ensure you can test your DR as often as you like without affecting your production or replication.
Testing replica with Veeam Procedure:
1. Temporarily Disable Veam Replication job
2. Create a snapshot of the replica using VMware vSphere Client. This will be used to revert the replica VMDK to its original state after the DR test being completed.
3. Change the replica VM network Configuration from being connected to production port group to an isolated test network.
4.  Power on the replica Virtual Machine & test if it work properly.
5.  Shutdown the replica Virtual Machine.
6. Revert back the replica virtual machine to the snapshot you have took at step 2.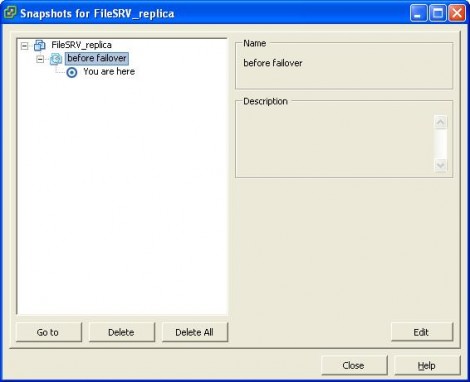 7. After the virtual machine has been completly reverted back. Delete the snapshot you have created in step 2.
8. Enable the Veeam Replication job, by removing the check mark next to the disable as per the below image.
9. optional – consider starting the replication job to ensure it is working again
I hope the above help you test your Disaster Recovery regularly. A non tested Disaster Recovery has a big chance being a non working Disaster Recovery. Good Luck.